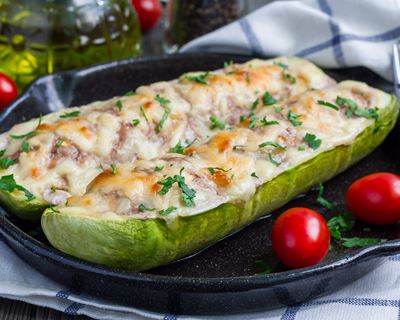 It is often difficult to find a good recipe for your guests when your budget is limited. We usually offer basic meals, and we would like to do better to impress our friends or family, but the prices for making beautiful meals are not often available to everyone. This is why we have decided to share with you three simple recipes that will allow you to wow your loved ones without breaking your bank account and without spending 2 hours in the kitchen!
Pasta gratin with ham in the oven
Pasta Gratin with Ham is a simple and delicious dish. It is a dish that you can make even if you don't have a lot of time to cook. Making a gratin for your guests is a good choice. Simple and quick to prepare, your guests will not be disappointed! So cook your pasta in boiling water while cooking your bacon in a pan next to it. Then mix the bacon with the pasta. (If the bacon is too fatty, you can use diced ham).
Zucchini stuffed with bacon cheese
Zucchini stuffed with bacon cheese is a great dish. It can be served as an appetizer or even as a meal itself. This is a recipe that will undoubtedly please your guests. It combines indulgence with cheese and bacon with fresh zucchini. Here's how to reconcile your friends with this delicious recipe.
First, cut the zucchini in half lengthwise and scoop out the insides. Keep what you have scooped for cooking with bacon and garlic. Then add fresh cream to your mixture as well as some Gruyère. You can now pour your mixture into the zucchini you emptied previously and bake everything at 180 ° C. Let it cook for 30 minutes, then enjoy!
Warm goat cheese and bacon salad
And finally, a lighter recipe with good foods that can be a little less inexpensive depending on the choice of your vegetables. The warm goat cheese and bacon salad is a delicacy that you should not miss if you have the chance. The ingredients work together in harmony, and it will thrill your taste buds.
Choose the vegetables of your choice to compose your salad. We prefer to mix lamb's lettuce with tomatoes, corn, bacon, diced Emmental and croutons. Season with olive oil and a little balsamic vinegar, brown your hot goats and place on your salad. Here is one more successful meal without having spent the entire day in the kitchen!