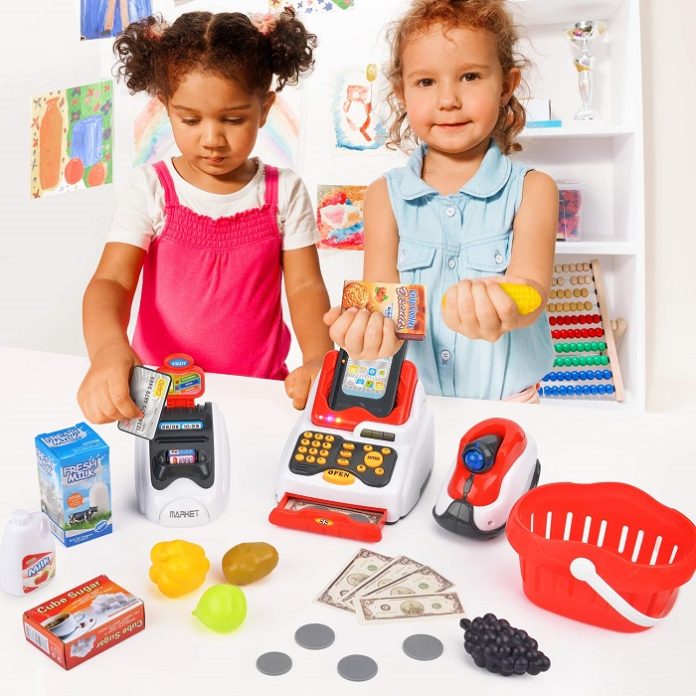 The first benefit when children understand the value of money is that they will have the habit of saving money as well as smart consumption, especially children will know that they won't have what they want right away. As your child grows, the foundation of money will help them know how to manage expenses, avoid debt and have a reasonable financial plan, and appreciate the money they have.
1. Teach children to play sales game
Playing sales games with children will teach them about how to exchange, buy and sell modern goods in the most interesting and sophisticated way.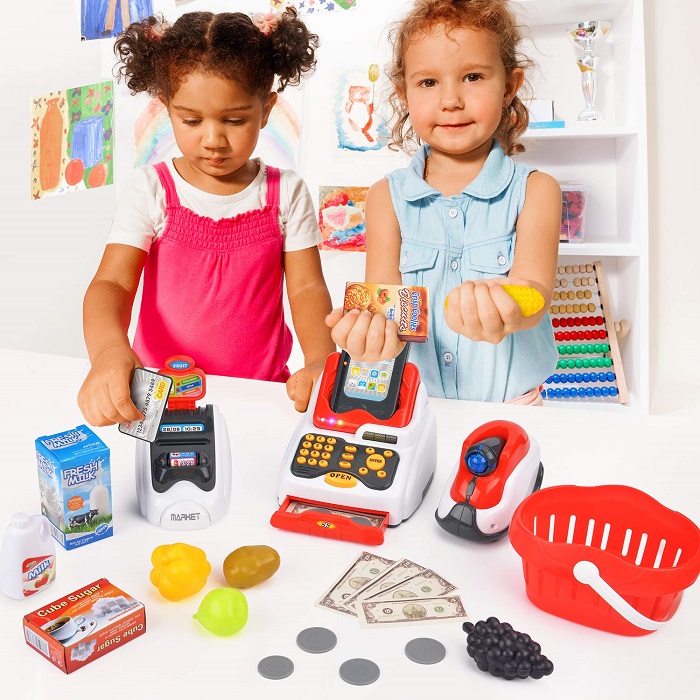 You should use used carton boxes to  make goods boxes, then let your child organize and decide for himself what he will sell with that number of boxes according to the specific topic. After arranging everything well, don't forget to prepare a shopping cart for your baby to "shop". Let's start the exciting shopping trip in your child's imagination with excitement and fun.
2. Take your child to the bank
Taking your child to the bank is more helpful than buying them candy. Children have the opportunity to understand what cash really is by witnessing banking transactions with their own eyes. It will be better for children to acknowledge more and more. Even a preschooler is capable of handing a card to the bank teller himself.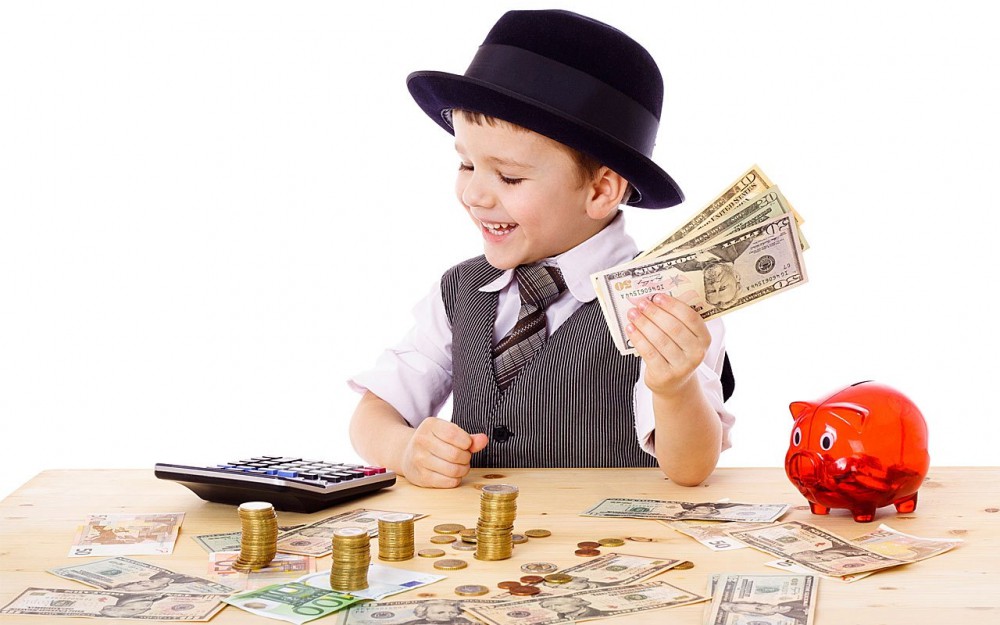 Consider opening an account for your child and help him learn to track his savings as he gets older. In fact, there are many banks that open free accounts for children.
Children have the opportunity to understand what cash really is by witnessing banking transactions with their own eyes
3. Let your child track the bill
Letting children keep track of bills is also a way to teach children about money that many parents can apply. While your child is watching, you can swipe your credit card, push buttons and pump gas…. Children will feel extremely interested and curious. Let your kids explore by letting them help you pay your credit card bill.
Preschoolers can help you put your utility bills, supermarket, … in one place. Older children can help record the amount on your bill or online payment.
Not only will this help kids feel useful, but they'll gain a completely new view on cash flow. There can be a number of benefits such as: Once your child knows how much electricity costs, he or she can be more conscious about turning off the lights when leaving the room.
4. Shop at the market instead of the supermarket
In the supermarket children did not see any sign of the farmer. Instead, taking your kids to the farmer's market is a great way to help them understand the connection between work and money. Get your child involved as much as possible, when he or she helps you to get a bunch of carrots and hands the cash to the farmer, he'll see the market economy is active.
Besides, you can also explain to your children that with the money that farmers earn, they can buy more supplies to grow more raspberries or other agricultural products.
Taking your kids to the farmer's market is a great way to help them understand the connection between work and money
5. Know how to use coupons
The next time you go to the grocery store or supermarket, put your child in charge of the coupons. Depending on age, your child can be a coupon holder, product finder, savings tracker, or all three. Then talk about how much money your child has saved and how you plan to use it.
Even without coupons, you should try to teach your kids about savings and discounts. Kids can help identify coupons that might fit this week's shopping needs (even non-readers can do, as most coupons include pictures), help Cut them up and put them in a large envelope.
Or if you can't deal with a coupon, use your grocery savings card at a participating market. While you shop, point out the highlighted transactions to the cardholder and show your child your family's savings on the receipt after shopping.
6. Children volunteering and donating
Try to teach children to realize that some people have more money than others and that those with more money can help those with less. Parents can do very simple things to get children into the habit of giving, teach children about money to understand money has real value, but it is not all.
You can also spark love in your child by helping them choose supplies for an animal's habitat or volunteer to help feed them if your child is an animal lover,
Encourage your child to earn some money
Making money is not only educational but also empowers children to be equal. Money-making ideas for kids include selling used toys and clothes at flea markets, helping organize a home sale, making handmade items and doing casual chores around the house for extra pocket money.
Other money-making ideas for kids include selling used toys and clothes at flea markets, helping organize a family yard sale, and doing errands around the house to earn extra pocket money.
8. Take your child to a class
Many credit unions and banks offer workshops for children. Don't think your kids do not understand anything, give them a chance. You will never cease to be surprised at how excited children are to learn about money.
9. Set a savings goal for the family
Does your child want to go to the amusement park? Instead of using it all with your parents' money, you can set a common goal for the whole family, including your child's savings to use it where he likes. This makes saving fun for the whole family and helps children understand how hard it is for parents to earn.
Teaching kids to save money is a way for them to understand that making money isn't easy
10. Let your child play games
Parents, allow your child to try some online games that teach children skills about making money or get some money when creating an account on the game. You have to think of a reasonable way to still have money or more to continue playing next time. Although it's just games and virtual currency, it helps with concepts of income, savings and losses.
Teaching children how to save and use money sensibly is one of the ways to form a positive attitude towards money. Parents also need to find out what and how children will do when giving money to their children, but instead of forcing them to open up about their expenses, you can talk to them openly, have fun with them about the money plan. This will help children appreciate the money that their parents give them and feel proud when they are independent and use money in a useful way.
In another aspect, teaching children financial management will be like a life experience for children to realize the arduous journey of making money and consider the use of that money. Many people are rich, but they are not extravagant in spending and are willing to spend a lot of money on charitable social activities, which also makes their children "absorb" how to use money effectively and sense the purpose. real money. As for the poor, every time they need to do something, they make a clear plan, see how much they need to save this month, how to make it enough, children show their love and share with their parents even the smallest things. Parents orient and help their children know how to save money on purposeful jobs is absolutely necessary and it will form children good habits in spending and using money.